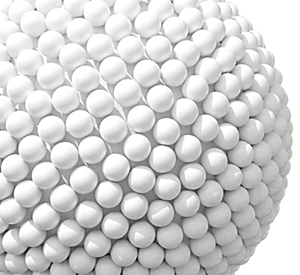 The new sculpture of master Virginio Ferrari
is breathtaking and thrilling
- "L'Arena"- Verona's Newspaper -
Vitalita' nel globo
"Vitalità nel Globo" is a piece of art conceived by the partnership between Poliplast's Art Division and the undisputed genius of the internationally acclaimed sculptor Virginio Ferrari. An approach in the Modern Art world that Poliplast wanted to face in order to revalue a material seen by most with a sole packaging purpouse. We'll let you judge the outcome!
Virginio ferrari
He was born 1937 in a sculptors family, Virginio Ferrari was a natural born artist. He graduated in 1959 at Accademia Cignaroli of Verona and aged 24 he set up his first exhibition in Venice. He then moved to the USA, a country that would forever influence his artistic language, stimulated by the american huge urban buildings. From 1966 to 1976 he worked as Artist in residence and professor at the prestigious University of Chicago.
He was awarded various and important prizes (one of them in 1977, the Illinois State Service Award) for humanizing and redevelopment of urban areas, and in 1993 e was appointed Cavaliere Ufficilale della Repubblica Italiana (the highest ranking honour of the italian repubblic) for his important contribution in the international artistic world.
His masterpieces are displayed in Argentina, Brasil, Belgium, France, Italy, Japan and USA. In Chicago alone there are more than 30 pubblic sculptures created by the veronese artist. Discover the artist >
Artwork Specifications
Materials: polystyrene,steel,concrete, water
Height: 8 meters
Structure weight: 40 quintals, 18 for the sphere only
Big sphere: fully built in expanded polystyrene with a 4.60 meters diameter
Small spheres: 589 little spheres with a 30 cm diameter to form a big sphere
Photogallery:
Here you can see some snapshots of the artwork rappresenting Poliplast: taken during the day and night of master Virginio Ferrari's creation, they make only part of the beauty of the artistic structure.
Article taken from the newspaper L'Arena - "Polystyrene, steel and water games, by Virginio Ferrari".
"Ecco la Vitalità dell'arte" – read the article
Want to learn more about our art division?